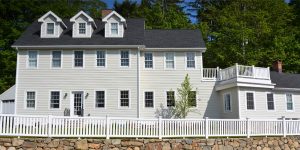 Turnbridge® is proud to take ownership of Westport House, an affordable structured sober living program for men, located in Westport, Connecticut. This acquisition makes well-managed, supportive recovery housing available to adult men in Westport and surrounding communities. The new entity is called Westport House, a Turnbridge Program.
Turnbridge's investments in programming and personnel make Westport House an exceptional resource for clients and professionals. The residence is now staffed by specially-trained, mission-driven Turnbridge professionals and guided by the commitment to quality, safety, and efficacy for which Turnbridge is known.
Westport House offers a welcoming and supportive recovery community that emphasizes belonging, camaraderie, and positivity. The beautiful house and grounds offer comfortable accommodations, full kitchen and laundry, private spaces, and convenience to the quaint Westport town center.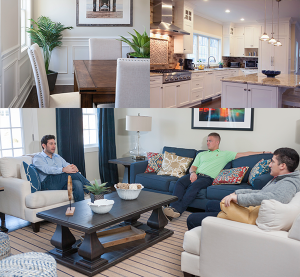 Westport House offers twelve beds and men can receive treatment at any nearby outpatient provider. Programming and services include:
Full-time Case Management: An experienced Turnbridge Case Manager supervises and monitors each client, liaises with family members and client care team members, and facilitates in-house relapse-prevention and process groups.
Round-the-clock Awake Support Staff: Specially-trained on-site staff monitor Westport House 24 hours per day, 7 days per week. Awake staff members receive Turnbridge's proprietary training in mental health first aid, de-escalation, motivational interviewing techniques, and Turnbridge recovery coaching curriculum.
Vocational support services: Clients will receive assistance with employment searches, interviewing skills, and resume writing.
Substance use screening: Turnbridge staff administer frequent drug and alcohol screenings for use by the client care team.
Available Clinical Services: Turnbridge offers clinical care to Westport House residents. Turnbridge Westport, our intensive outpatient program in Westport, provides comprehensive, integrated substance use and mental health treatment. Individualized holistic treatment plans coordinate psychiatry and medication management, medication-assisted treatment, psychotherapy, and wellness services.

Chas Lankford, RCP, Program Director
Chas' incredible passion stems from over 26 years of personal recovery and extensive experience working with individuals suffering from addiction and co-occurring disorders. Before coming to Turnbridge, Westport House's parent company, over 8 years ago, Chas spent 6 years at the Children's Center and was one of the pioneering Case Manager's in the New Choices Adolescent Treatment program. After the birth of his daughter, Chas spent 10 years in the IT world as a hardware and network technician, but dearly missed the sense of purpose and fulfillment that comes from working with people in need of substance abuse/mental health help. In 2011, a Case Management opportunity opened at Turnbridge and Chas eagerly jumped back into the field and became a part of the Turnbridge family, working in multople programs and in many capacities.

Janet Isdaner, LCSW, Director of Clinical Services
Janet is a clinical social worker with more than 30 years of experience in the treatment of mental illness and substance use disorders. She obtained a B.A. in Sociology and Speech Communications from the University of Arizona, and her M.S.W. from Columbia University. She is a dynamic leader, with a wonderful sense of humor and has mentored dozens of social workers. Prior to joining the Turnbridge family, Ms. Isdaner dedicated the last 15 of her 19 years at Silver Hill Hospital to successfully developing their Transitional Living residential program. Under her lead, the Transitional Living program thrived as it grew new and innovative programs, maintained a robust census, and provided clinically excellent care.
ABOUT TURNBRIDGE
For more than 16 years, Turnbridge has been welcoming individuals and families to its Connecticut campuses to learn the tools to manage addiction and mental health conditions and the skills to thrive in the lives of their choosing. Distinguished by high-quality integrated care, ceaseless innovation, three-phased programming, gradual exposure to real-world triggers, and data-informed verification of self-reported progress, Turnbridge has become the first choice of referring healthcare professionals around the country. Today's Turnbridge system offers residential and outpatient programs for adolescents, emerging adults, and adults.